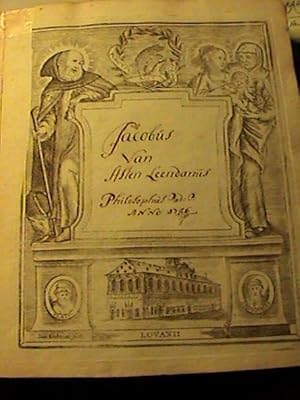 Immagini fornite dal libraio
1786 HANDWRITTEN MANUSCRIPT STUDY OF ASTRONOMY, CARTOGRAPHY, GEOGRAPHY AND PHILOSOPHY FROM THE FAMED UNIVERSITY OF LOUVAIN
Libreria:

M Benjamin Katz FineBooksRareManuscripts

(Toronto, ON, Canada)

Valutazione libreria:
Quantità:

1
Prezzo: EUR 5.569,94
Convertire valuta
Spedizione: EUR 11,57
Da: Canada a: U.S.A.
Destinazione, tempi e costi
Libro
Dati bibliografici
Titolo: 1786 HANDWRITTEN MANUSCRIPT STUDY OF ...
Casa editrice: Louvain Belgium Belge
Data di pubblicazione: 1786
Legatura: Leather Spine
Illustratore: Charles Becker
Condizione libro: Very Good+
Tipologia articolo: Latin
Descrizione:
On offer is a superb, fine and unique handwritten manuscript book representative of top tier 18th century European education and study of astronomy including theory, problems, corollaries and observations and with relation to map making, geography and philosophy. This elegant book would have served as a course 'text' at the Catholic University of Louvain as evidenced by the engraved title page vignette of a major building at Louvain straddled by portraits of Plato and Aristotle, while overhead the Latin motto "Porcus Alit Doctos" features Mary, Joseph and the baby Jesus on one side and a caped shepherd on the other and then inscribed by hand in the central panel by or for philosophy student Jacobus Van Asten Leendanus ANNO 1786. One online source provides a succinct explanation as to the importance of astronomy at this time in history: "During the course of the eighteenth century the combination of theoretical and practical advances allowed astronomy to solve most of the outstanding problems that had been raised by the work of Newton and the earlier astronomers. New instruments such as the micrometer, reflecting telescope, and achromatic telescope allowed the cataloging of stars with increasing precision and the discovery of new phenomena such as aberration, nutation, nebulae, and a new planet - by the end of the century astronomy seemed to have become the most perfect science and astronomers were beginning to speculate concerning the origins and shape of the universe." In handsome cursive handwriting, 20 x 16.5 cm, 8vo, original calf, raised bands, and mottled paper boards there is some wear to the hinges but is otherwise sturdy; features nine engraved plates, many fold out and a number other graphics throughout [a previous bookdealer's notes identify the engraver as Charles Becker who worked at Louvain University at the time of the birth of Louis XVII (Benezit I pp.563)]. Approx. 150 pages. Complete. The manuscript has especially interesting section on the problems of map-making with latitude and longitude. VG+. Codice inventario libreria 000814
Info su libreria e pagamento
Libreria AbeBooks dal: 11 maggio 2005
Valutazione libreria:

Condizioni di vendita: Books not as described are fully returnable.
Condizioni di spedizione: Abebooks shipping costs are a guideline. Larger sized books may require more postage. An email will be sent if required.
Descrizione libreria: M. Benjamin Katz, Fine Books/Rare Manuscripts: M. Benjamin Katz, Fine Books/Rare Manuscripts is located in Toronto, Canada doing business by appointment, and having an online presence selling rare books and manuscripts since 1999. Specializing in handwritten, historically significant books, manuscripts, diaries, documents and ephemera. A member of The Manuscript Society each treasure on offer is guaranteed authentic and as represented for life. Worldwide clientele includes public, private and university libraries on both sides of the Atlantic and Pacific. Always buying collections and estates.
Contenuti parziali di questa pagina hanno copyright 2006 Muze Inc. Alcuni dati bibliografici sono stati forniti da Baker & Taylor, Inc. Copyright 1995-2006 Muze Inc. per uso personale, non commerciale. Tutti i diritti riservati. Il copyright di alcuni dati bibliografici è di Baker & Taylor, Inc. o di chi gliene ha concesso autorizzazione ed è soggetto alla legislazione vigente in materia di copyright e diritto d'autore.

Contenuti parziali di questa pagina sono di proprietà esclusiva di VNU Entertainment Media (UK) Ltd., 2006, Georg Lingenbrink GmbH & Co., Tite Live, S.A. o Informazioni Editoriali S.p.A. Tutti i diritti riservati.