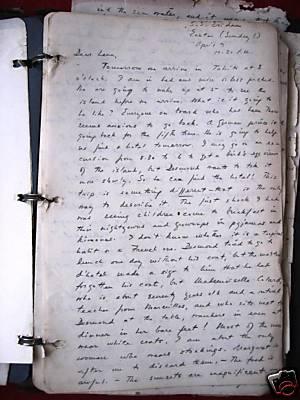 Immagini fornite dal libraio
1939 HANDWRITTEN MANUSCRIPT TAHITIAN TRAVEL DIARY, LETTERS AND OBSERVATIONS OF PRE WAR TAHITI BY FAMED POET, PUBLISHER AND ARTIST WRITTEN TO HIS PARENTS
Libreria:

M Benjamin Katz FineBooksRareManuscripts

(Toronto, ON, Canada)

Valutazione libreria:
Quantità:

1
Prezzo: EUR 3.575,35
Convertire valuta
Spedizione: EUR 11,65
Da: Canada a: U.S.A.
Destinazione, tempi e costi
Libro
Dati bibliografici
Titolo: 1939 HANDWRITTEN MANUSCRIPT TAHITIAN TRAVEL ...
Casa editrice: TAHITI SOUTH PACIFIC FRENCH POLYNESIA Egham Surrey
Data di pubblicazione: 1939
Condizione libro: Good
Descrizione:
On offer is the remarkable, original handwritten manuscript journal and diary by Desmond Harmsworth regarding his travels in the South Pacific. Over 150 pp written as letters to his mother and father, Lady and Lord Harmsworth. Desmond and sometimes his wife Dorothy write long, detailed intimate letters detailing their travel, observations and growing concerns while in Tahiti on the cusp of the War. The original 3 ring style book is in terrible shape given the covers are distressed and the rear is present but off. Some pages are detached but otherwise holding well. Simply super one of a kind relic of the South Pacific pre World War II. Codice inventario libreria 0001080
Info su libreria e pagamento
Libreria AbeBooks dal: 11 maggio 2005
Valutazione libreria:

Condizioni di vendita: Books not as described are fully returnable.
Condizioni di spedizione: Abebooks shipping costs are a guideline. Larger sized books may require more postage. An email will be sent if required.
Descrizione libreria: M. Benjamin Katz, Fine Books/Rare Manuscripts: M. Benjamin Katz, Fine Books/Rare Manuscripts is located in Toronto, Canada doing business by appointment, and having an online presence selling rare books and manuscripts since 1999. Specializing in handwritten, historically significant books, manuscripts, diaries, documents and ephemera. A member of The Manuscript Society each treasure on offer is guaranteed authentic and as represented for life. Worldwide clientele includes public, private and university libraries on both sides of the Atlantic and Pacific. Always buying collections and estates.
Contenuti parziali di questa pagina hanno copyright 2006 Muze Inc. Alcuni dati bibliografici sono stati forniti da Baker & Taylor, Inc. Copyright 1995-2006 Muze Inc. per uso personale, non commerciale. Tutti i diritti riservati. Il copyright di alcuni dati bibliografici è di Baker & Taylor, Inc. o di chi gliene ha concesso autorizzazione ed è soggetto alla legislazione vigente in materia di copyright e diritto d'autore.

Contenuti parziali di questa pagina sono di proprietà esclusiva di VNU Entertainment Media (UK) Ltd., 2006, Georg Lingenbrink GmbH & Co., Tite Live, S.A. o Informazioni Editoriali S.p.A. Tutti i diritti riservati.