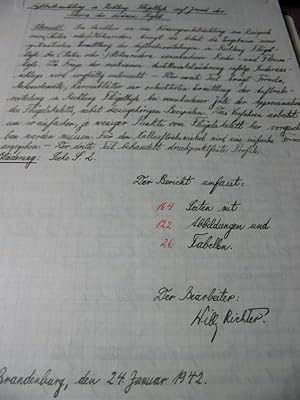 Immagini fornite dal libraio
1942 HANDWRITTEN ORIGINAL WORLD WAR II MANUSCRIPT SCIENTIFIC STUDY OF GERMAN AVIATION, ROCKETRY AND ROCKET THEORY
Libreria:

M Benjamin Katz FineBooksRareManuscripts

(Toronto, ON, Canada)

Valutazione libreria:
Quantità:

1
Prezzo: EUR 4.249,34
Convertire valuta
Spedizione: EUR 22,20
Da: Canada a: Italia
Destinazione, tempi e costi
Libro
Dati bibliografici
Titolo: 1942 HANDWRITTEN ORIGINAL WORLD WAR II ...
Casa editrice: Germany
Data di pubblicazione: 1942
Legatura: Unbound
Condizione libro: Very Good
Condizione sovraccoperta: None
autografato: Signed by Author
Tipologia articolo: German Language
Descrizione:
[Original Manuscript] GERMAN ROCKETRY. In German. 164 pages loose in old folder. Highly technical writings, mathematical equations and analysis, graphs, charts etc. Signed Hilly Richter 24 January, 1942. Entitled "Auftriebs verteilung Richtung flugeltiefe auf grund der theorie der dunnen Profile," relating to theories of lift distribution and flight direction. The folder labeled "Rakete Theorie". Clearly, the date of the manuscript would put in squarely in the period of World War II and the great German advances in aeronautics. Civilian and military efforts in the field of rocketry in all other nations combined paled in comparison with the strides made in Germany, where the first A-4 was tested with complete success on October 3, 1942. The very first A-4 rocket reached an altitude of 50 miles and flew a distance of 120 miles. The A-4, later renamed V-2, would go on to lay the cornerstone of modern rocketry. Fascinating World War II relic and collectible of significance. Codice inventario libreria 000025B
Info su libreria e pagamento
Libreria AbeBooks dal: 11 maggio 2005
Valutazione libreria:

Condizioni di vendita: Books not as described are fully returnable.
Condizioni di spedizione: Abebooks shipping costs are a guideline. Larger sized books may require more postage. An email will be sent if required.
Descrizione libreria: M. Benjamin Katz, Fine Books/Rare Manuscripts: M. Benjamin Katz, Fine Books/Rare Manuscripts is located in Toronto, Canada doing business by appointment, and having an online presence selling rare books and manuscripts since 1999. Specializing in handwritten, historically significant books, manuscripts, diaries, documents and ephemera. A member of The Manuscript Society each treasure on offer is guaranteed authentic and as represented for life. Worldwide clientele includes public, private and university libraries on both sides of the Atlantic and Pacific. Always buying collections and estates.
Contenuti parziali di questa pagina hanno copyright 2006 Muze Inc. Alcuni dati bibliografici sono stati forniti da Baker & Taylor, Inc. Copyright 1995-2006 Muze Inc. per uso personale, non commerciale. Tutti i diritti riservati. Il copyright di alcuni dati bibliografici è di Baker & Taylor, Inc. o di chi gliene ha concesso autorizzazione ed è soggetto alla legislazione vigente in materia di copyright e diritto d'autore.

Contenuti parziali di questa pagina sono di proprietà esclusiva di VNU Entertainment Media (UK) Ltd., 2006, Georg Lingenbrink GmbH & Co., Tite Live, S.A. o Informazioni Editoriali S.p.A. Tutti i diritti riservati.