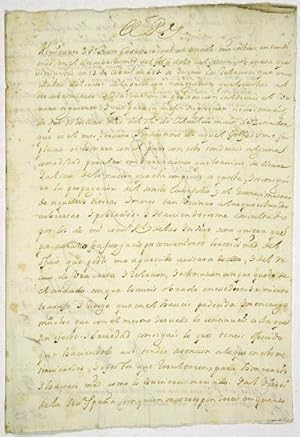 Immagini fornite dal libraio
MANUSCRIPT LETTER, SIGNED WITH THE ROYAL SIGN MANUAL, TO THE VICEROY OF NEW SPAIN, CONCERNING ADMIRAL PORTER CASANATE'S EXPEDITIONS TO THE GULF OF CALIFORNIA].
Prezzo: EUR 28.084,23
Convertire valuta
Spedizione: EUR 16,36
Da: U.S.A. a: Italia
Destinazione, tempi e costi
Libro
Dati bibliografici
Titolo: MANUSCRIPT LETTER, SIGNED WITH THE ROYAL ...
Casa editrice: Madrid. Aug. 6, .
Data di pubblicazione: 1650
Descrizione:
2pp. Folio. In a green levant morocco case. [with:] Philip IV of Spain: [MANUSCRIPT LETTER, SIGNED WITH THE ROYAL SIGN MANUAL, TO ADMIRAL DON PEDRO PORTER CASANATE, IN REPLY TO THE LATTER'S LETTER CONCERNING THE DISCOVERY OF THE GULF OF CALIFORNIA]. Madrid. Aug. 6, 1659. 2pp. Folio. In a green levant morocco case. Don Pedro Porter Casanate was the dominant figure in the exploration of the Gulf of California from 1635 to 1653. Born in Spain in 1604, he joined the Spanish navy early in life, serving with distinction against pirates in the Atlantic and Caribbean. In 1634 he published the fruits of his observations on navigation as REPARO A ERRORES DE LA NAVEGACION ESPANOLA. Shortly thereafter he shifted his operations to the Gulf of California, where he led an expedition in 1635 under orders of the Viceroy. Evidently intrigued by this voyage, Casanate petitioned the Crown for permission to explore further, and in 1640 he was granted a license to "explore the Gulf of California without limit to leagues or time." Porter pushed his explorations forward, but was handicapped by a lack of funds, since the Crown would grant him no money nor appoint him to the various patronage positions he requested, which might have supplied funds in a more round-about way. Nonetheless, he managed in 1648-50 to explore the upper reaches of the Gulf of California, especially the Baja side. It is at that point that these two manuscripts were written. The first is a letter from the King of Spain, Philip IV, to the Viceroy of New Spain concerning Casanate and his proposed expedition. The King summarizes his previous arrangements with the explorer, instructs the Viceroy to obtain detailed reports, to ascertain the cost and means of the expedition, and if Casanate discovers anything valuable, such as a pearl fishery, to come to his assistance. On the same day, Philip IV writes to Casanate (the second letter), denying him the judgeship of Sinaloa, but at the same time encouraging him in his explorations and demanding a full report once they are concluded. In short, while the Crown and the Council of the Indies were willing to do very little to aid the explorer, they were quite willing to benefit from his excursions. Certainly two of the earliest and most important documents pertaining to the Gulf of California and the discovery of Baja. Portillo y Diez de Sollano, DESCUBRIMIENTOS Y EXPLORACIONES EN LA COSTAS DE CALIFORNIA (Madrid, 1947), pp.243-90. Ricardo del Arco, "El Almirante Pedro Porter y Casanate. Explorador del Golfo de California" in REVISTA DE INDIAS, Vol. 8 (1947), pp.783-844. Codice inventario libreria WRCAM 1983
Info su libreria e pagamento
Libreria AbeBooks dal: 13 luglio 2006
Valutazione libreria:

Condizioni di vendita: Terms of Trade All initial queries concerning items listed on ABEBooks.com by William Reese Company must be made via e-mail. All material offered herein is offered subject to prior sale and is shipped subject to approval, but notification of return must be made within thirty days and returns made in a prompt and conscientious fashion. New customers are asked to prepay, or supply ABAA/ILAB references. Payment may be made by check, wire transfer or bank draft, and we also accept Visa and MasterCard
Condizioni di spedizione: Orders usually ship within 3 business days. Shipping costs are based on books weighing 2.2 LB, or 1 KG. If your book order is heavy or oversized, we may contact you to let you know extra shipping is required. On prepaid orders of $100 or more shipped by standard means within the U.S., no shipping is charged. On prepaid orders of less than $100 shipped within the U.S., shipping is charged at the rate of $4.00 for the first volume, and $1.50 for each volume thereafter. Items shipped outside of the U.S. are sent by air-mail, surface-mail or courier depending on bulk and value, with full charges billed at our discretion.
Descrizione libreria: ABAA-ILAB
Contenuti parziali di questa pagina hanno copyright 2006 Muze Inc. Alcuni dati bibliografici sono stati forniti da Baker & Taylor, Inc. Copyright 1995-2006 Muze Inc. per uso personale, non commerciale. Tutti i diritti riservati. Il copyright di alcuni dati bibliografici è di Baker & Taylor, Inc. o di chi gliene ha concesso autorizzazione ed è soggetto alla legislazione vigente in materia di copyright e diritto d'autore.

Contenuti parziali di questa pagina sono di proprietà esclusiva di VNU Entertainment Media (UK) Ltd., 2006, Georg Lingenbrink GmbH & Co., Tite Live, S.A. o Informazioni Editoriali S.p.A. Tutti i diritti riservati.